Lorry driver sentenced for causing farmer's death in crash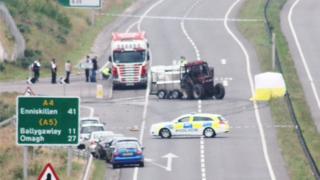 A County Down motorist involved in a crash in which an elderly farmer was killed has been banned from driving.
William Mark Murphy was driving a lorry that collided with a tractor pulling a trailer on the A4 dual carriageway in County Tyrone on 25 June 2014.
Phelim Brady, who was 69, was standing on the tractor's drawbar and was killed after it was hit from behind.
Murphy, 53, was given a suspended four-month jail sentence for causing death by careless driving.
His prison term has been suspended for three years and his driving ban will last for three years.
'Dignified and decent'
A court in Belfast heard that Murphy, from Prospect Road in Castlewellan, had been attempting to overtake the tractor at the at the junction of the Killybracken Road between Dungannon and Ballygawley.
He was forced to abort the manoeuvre after noticing an oncoming car in the outside lane.
He swerved the lorry back into the inside lane but it was too close to the back of tractor and trailer, he failed to brake in time to prevent a crash.
The court heard that Mr Brady, who was from Caledon in County Tyrone, sustained "multiple injuries as a result of the collision" and died at the scene.
During the sentencing on Tuesday, the judge paid tribute to the "tremendously dignified and decent" Brady family, saying that it it was clear they had "lost the bedrock of the family unit".
Murphy had denied causing Mr Brady's death by dangerous driving, and was found guilty by a jury of the lesser charge of death by careless driving during a trial earlier this year.
He had accepted that charge from the outset.
'Consumed with grief'
A prosecutor said Murphy's driving on the day in question had fallen below the standard expected of a competent driver.
The prosecutor also pointed out a forensic officer had given evidence that indicated he "couldn't rule out the possibility there had been no braking prior to impact".
A defence barrister said that Murphy had been "absolutely consumed with grief and remorse" since the incident.
"The remorse expressed appears to be solely based on the impact of the deceased's death on his family," added the barrister.
The judge said the incident was a "tragic, tragic case" and said Murphy had not intended to "cause this hardship and heartbreak to the Brady family".
But he cited the careless aspects of Murphy's driving before the crash and told him: "You will live with this for the rest of your life."