Is Gerry Adams setting out his retirement plans?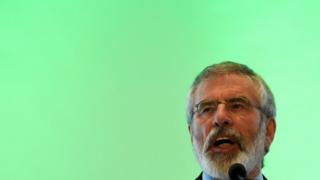 Gerry Adams became president of Sinn Féin in 1983 - it's extraordinary that 34 years later we are still waiting to hear when the 68-year-old politician might step down.
Having survived a number of attempts on his life during the Troubles, Mr Adams has proved equally adroit as a political survivor.
He has outmanoeuvred any challenges to the direction in which he has led the republican movement, navigating it skilfully from war to peace, then from protest politics to power at Stormont and a significant opposition role in Dublin.
Mr Adams' latest comments about future intentions aren't surprising.
Indeed at the same Sinn Féin away day last year he said: "It isn't a question of if I will step down, it's a question of when I step down and we have a plan".
The late Martin McGuinness revealed more about that transition plan before he died, pointing to the tenth anniversary of the restoration of devolution in May as the point when he himself had intended to step down as Deputy First Minister.
As it turned out, illness rendered Mr McGuinness's preferred timetable impossible, leading to Michelle O'Neill's appointment in January.
'Influence and power'
There had been speculation Mr Adams would use the Sinn Féin Ard Fheis in November as the backdrop for his own departure - instead he now says he will seek re-election (which should be a foregone conclusion), but will then spell out his "planned process of generational change" including his own "future intentions".
The Dublin TD Mary Lou McDonald appeared alongside Messrs Adams and McGuinness at Michelle O'Neill's unveiling as Stormont leader at the start of the year, and she will be the bookies' favourite to replace Gerry Adams when he finally retires.
Perhaps, like Martin McGuinness, Mr Adams has picked a date that he regards as personally or politically significant.
Or perhaps he will tailor his retirement to the electoral realities in the Republic of Ireland, which will depend on when Fianna Fáil calls time on the current Fine Gael minority government.
There has been plenty of speculation that other southern parties might regard Sinn Féin as a more appropriate potential coalition partner if Gerry Adams, with all his Troubles baggage, was no longer leader.
Whenever he does clarify matters, it will be interesting to see whether Mr Adams retains some kind of ambassadorial role for Sinn Féin, and if so, how much influence and power he continues to wield behind the scenes.