NI newspaper review: Stormont pessimism gives way to World Cup dream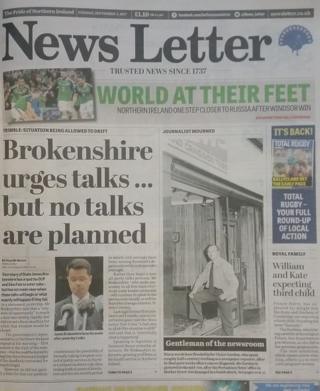 With many readers waking up this morning with a World Cup dream (possibly alongside a thriving hangover), it would be remiss not to start our paper review with the back pages as they are officially going gaga for the Gawa.
"Job done" declares the back page of the Mirror, after Michael O'Neill's Northern Ireland beat the Czech Republic to secure a World Cup 2018 play-off spot.
The Belfast Telegraph dusted off the classic, nation-specific headline of "Czechmate" while goal scorer Jonny Evans gets his own pun tribute in the News Letter with "Evans Above".
A good night for sports news headline writers and an even better one for Northern Ireland fans - the dream of a Russian World Cup adventure next year lives on.
Back to the front pages and we are back to - what else - the ongoing Stormont crisis.
Parties were back talking to Northern Ireland Secretary James Brokenshire yesterday but the Irish News and the News Letter both lead with his warning that the window to secure a power-sharing deal is "closing rapidly".
Will there be a deal? Will it happen this week, or even this millennium? The view from Northern Ireland's political correspondents is less than optimistic.
"The political backdrop remains bleak and the appetite for agreement meagre," writes John Manley in the Irish News.
Suzanne Breen in the Belfast Telegraph says that politicians have until mid-October to reach a deal but "most likely we will hear the same speeches and soundbytes regurgitated over the next six weeks".
"Going backwards" is the headline for Sam McBride's political analysis in the News Letter, with direct rule being the "only logical outcome" of the talks process.
On those sunny notes, let's turn to a story that's all about sunshine (or the lack of it, of course).
The Daily Mirror reports that Northern Ireland's dark winters are leaving one in four older adults with a vitamin D deficiency.
A study found that even during the summer, one in eight people over 50 are lacking the essential nutrient.
Dr Eamon Laird, from the Irish Longitudinal Study on Ageing at Trinity College Dublin, said countries with a similar lack of sunshine, such as Finland, have less deficiency because they have a "public health policy of supplementation and fortification".
Meanwhile, the Mirror also reports that an MMA star from Bushmills will be able to carry on chasing his dream of US stardom after being spared a suspended sentence for driving offences.
Norman Parke, whose known in the ring as Stormin' Norman, was sentenced in Coleraine to driving without insurance among other driving charges. However a judge said he did not want to stop him "following him in Conor McGregor's footsteps" by imposing a sentence that could ban him from entering the US.
However, the 30-year-old was warned that the judge would "impose custody" if the MMA fighter appeared before him again.
Speaking of the US, President Donald Trump has been condemned by Belfast City Council for his "inconsistent comments" regarding clashes in Charlottesville, Virginia last month.
The Irish News and the News Letter both report that the council debated a motion to boycott the president by having future mayors decline any invitations to the White House while President Trump is in office.
However, UUP councillor Jeffrey Dudgeon described the motion as "too severe" and an amended motion was passed by 38 votes to 11.
For the last word, we'll return to the Belfast Telegraph and a generous gesture by one of Northern Ireland's international stars Stuart Dallas.
Dallas, who played in last night's 2-0 win, donated free tickets to the fiancé and two sons of Jolene O'Hagan, a 23-year-old who died suddenly in July.
"When Jolene passed away two months ago, Stuart, being from Cookstown, had obviously heard about that," said Jonathan Smyth, Ms O'Hagan's fiancé.
"But now he's given Alfie and Theo a massive smile on their face with this gesture. This surprise means the world to us, it's a very nice thing to do and it just shows you not all footballers let the money go to their heads."