Gerry Adams to spell out 'leadership plans'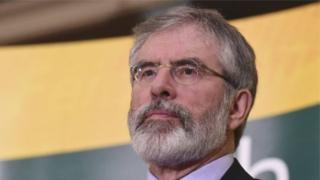 Sinn Féin president Gerry Adams said he will set out his "future intentions" if he is re-elected party leader at its conference in November.
Mr Adams was speaking in County Meath before a party meeting.
He said he would detail the party's "planned process of generational change" if he is re-elected.
He added that the party had a 10-year plan for "orderly leadership change" that had been outlined by Martin McGuinness.
Mr McGuinness, the party's former deputy leader, died in March.
Mr Adams was speaking ahead of an annual meeting of elected Sinn Féin members to discuss upcoming plans and party strategy.
He said Sinn Féin's 10-year plan was being finalised and had "been the focus of much internal discussion".
---
Analysis: Mark Devenport, Political editor, Northern Ireland
Gerry Adams became president of Sinn Féin in 1983 - it's extraordinary that 34 years later we are still waiting to hear when the 68-year-old politician might step down.
Having survived a number of attempts on his life during the Troubles, Mr Adams has proved equally adroit as a political survivor.
---
"It is about preparing the party for the next ten years and to ensure that we are better able to achieve our strategic objectives.
"At this event at this venue last year, Martin McGuinness made it clear that we had a plan for orderly leadership change."
He added: "It is our intention to unveil at the Ard Fheis in November the plan that he helped to formulate.
"I will be allowing my name to go forward for the position of Uachtarán Shinn Féin.
"And if elected I will be setting out our priorities and in particular our planned process of generational change, including my own future intentions."
Mr Adams also addressed issues such as Brexit and the ongoing political impasse in Northern Ireland, which has been without a devolved government since January.
The Northern Ireland executive collapsed in January, and the last round of power-sharing talks ended in stalemate in June.
'Crocodiles delighted'
The two largest parties, the Democratic Unionist Party (DUP) and Sinn Féin, blame each other for the lack of progress.
Their government broke down over a number of issues with the final straw for Sinn Féin being the DUP's handling of a botched green energy scheme.
Mr Adams called on the DUP to engage in exploratory talks during a short time-frame to see whether the devolved institutions can be restored.
But, he repeated Sinn Féin's demand that there can be no Northern Ireland Assembly or Executive without a stand-alone Irish Language Act.
"Last week's proposal by the DUP leader Arlene Foster for a parallel process is a non-runner, and she knew this.
"But it did contain a welcome acknowledgement that the Irish language threatens no one."
He added that "the crocodiles are delighted to hear that" in reference to Mrs Foster's description of Sinn Féin in February.