Stormont deadlock: No joint authority for NI, says government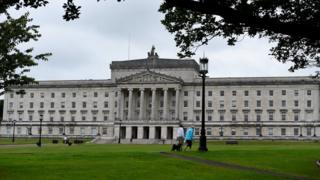 The government has said it will never allow joint authority for Northern Ireland, after an Irish minister said there could be no UK-only direct rule.
Irish Foreign Minister Simon Coveney made his comment after talks with the main Stormont parties on Tuesday.
He said that should devolution not be restored, direct rule from London could not be imposed without Irish input.
But the UK government has responded by saying it will hold responsibility for "good governance in Northern Ireland".
A government spokesman added that the position is consistent with its obligations under the 1998 Good Friday peace agreement.
"We will never countenance any arrangement, such as joint authority, inconsistent with the principle of consent in the agreement," he added.
'Desire for compromise'
The Northern Ireland Executive collapsed in January, and power-sharing talks are deadlocked.
Mr Coveney said there is a need for leadership if a deal is to be done to resolve the political deadlock at Stormont.
He said Northern Ireland is "in limbo" and there is a narrow window to resolve issues, but he said he sensed a desire for compromise between the largest parties, the Democratic Unionist Party (DUP) and Sinn Féin.
It is "madness" not to have an executive in place, Mr Coveney added, as that means Northern Ireland has no voice at the Brexit talks table.
He echoed Northern Ireland Secretary James Brokenshire's warning on Monday that the window of opportunity to restore devolution was "rapidly closing".
If an agreement cannot be reached, Mr Brokenshire is under a legal duty to call an election, but he is understood to be reluctant to do that.
He warned on Monday that if no power-sharing deal was reached, the government will have to pass legislation to fund public services in Northern Ireland.
'Divisive and destabilising'
Mr Coveney rejected Sinn Féin president Gerry Adams's proposal for a referendum on a united Ireland.
Mr Adams told a party meeting in the Republic of Ireland that a referendum on Irish unity in the next five years would be winnable, adding that the referendum should be an Irish government policy.
But in an appeal for stability, Mr Coveney said: "I don't think now is the time to start talking about border polls."
Earlier, DUP leader Arlene Foster described Mr Adams's border poll call as "divisive and destabilising" and said it is "wishful thinking".
It is not the first time the parties have clashed over a Sinn Féin proposal for a referendum.
The party called for a border poll within five years in its manifesto for this year's Westminster election, but Mrs Foster said it should be taken off the agenda "for generations".
'Proposal a non-runner'
Another sticking-point in the Stormont talks is Sinn Féin's demand that there can be no power-sharing deal without a stand-alone Irish language act.
That position was reaffirmed by Mr Adams in his speech to party members.
"Last week's proposal by the DUP leader Arlene Foster for a parallel process is a non-runner, and she knew this," he said.
"But it did contain a welcome acknowledgement that the Irish language threatens no one."
Alliance Party deputy leader Stephen Farry said Mr Adams's speech showed that Sinn Féin is pursuing "a chaos strategy".
"There was nothing in this speech which gave any indication Sinn Féin are willing to show any sense of compromise, or any sense of responsibility towards good governance and public services," he said.