Eamon Bradley on trial for Syria terrorism offences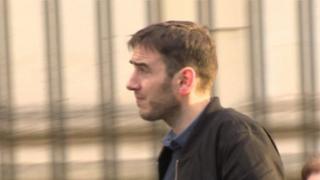 The trial has begun of a man from Londonderry accused of terrorism offences in the Syrian civil war.
Eamon Bradley, 28, denies three charges relating to a trip to Syria in 2014, allegedly to help the struggle against President Bashar al-Assad.
The charges, allegedly dating from March to September that year, include attending terrorist training camps.
They also include receiving training in the use of firearms an AK47, DShK 38 and a BKC machine gun and a grenade.
Mr Bradley, with an address at Benview Estate in Coshquin but originally from Melmore Gardens in the Creggan, returned from Syria in October 2014.
A court heard that during police interviews after his return, the accused admitted travelling to Syria in February 2014 and attending a training camp.
The jury of six men and six women heard Bradley had taken part in three battles after leaving the training camp - two in Hama and Idlib against President Assad's forces, and one in Aleppo, against the so-called Islamic State group.
They heard how he had told detectives he had become disillusioned in Syria and made arrangements to come home.
He had told police the group he considered himself a member of Jaysh al Islam (the Army of Islam) - a rebel Syrian group.
During police interviews, he denied that he had been tasked with carrying out any work in Northern Ireland.
He confirmed to detectives that he had been in Syria, that he had engaged in warfare and that he was proud of his involvement.
Opening the case against him, a prosecuting lawyer told the jury that regardless of the charges allegedly being committed outside the court's jurisdiction, "in law there is no such thing as terrorism for a just cause".
The senior barrister also told them that "based on the admissions of the defendant at interview, he is guilty of the offences with which he is charged.
"Your role is to determine not the rights or wrongs of the conflict in Syria, or whether or not you think Mr Bradley thought others would benefit from his actions.
"Your role is, on the basis of the wording of the criminal offences with which he is charged, whether he is guilty or not guilty."