From the Alps to Armagh - taking the long way home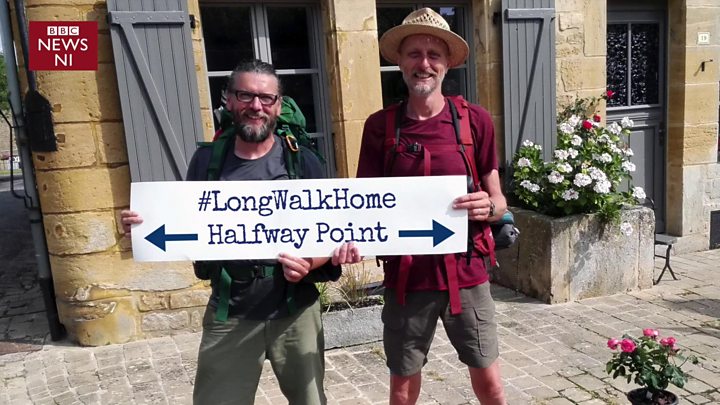 Eighty-six days ago, Eamonn Donnelly left his home in Austria and started walking towards the Alps.
More than 1,550 miles (2,500 km) later, he is about to arrive at his final destination - Keady, the County Armagh town where he was born and brought up.
Eamonn undertook the challenge to raise money for - and understanding of - dementia.
"I just liked the idea, the simplicity of it," he said. "Just walking home on your own steam seemed a cool thing to do.
"The main motivation was my mother - we've done it in her memory, I suppose.
"She passed away after suffering from a very aggressive form of dementia. I'd never done anything like this in my life.
"My mum was the kind of person who did things to help others outside of the family - who would do bigger things."
'Faith in humanity'
Eamonn was accompanied almost all the way by his friend, Sepp Tieber-Kessler.
The pair crossed the Alps in southern Germany before making their way across northern France and through England and Wales.
"The beautiful landscapes, etc., have been fantastic but, for me, the highlights have been the people," said Eamonn.
"All of them have been fantastic; such a positive reaction every time we arrived in a little village, be it in France or England or Germany or wherever.
"People have even put us up in their homes. We were total strangers to them and they've taken us in.
"If you do something bigger like this, you just notice that people really get behind it.
"I wouldn't say it restored my faith in human nature as I had never lost it, but it reaffirmed my faith in humanity."
Eamonn's first grandchild, a girl, was born five weeks early in Austria while he was on the walk.
He has not been able to see her yet but it is particularly poignant, he said, that she was born while he was walking to remember his late mother.
"I've dubbed this adventure the long walk home and I'm going home to my birthplace, to my dad and to my family.
"That's where I became the person I am I suppose. I just feel now though it's time to go back to Austria. Having become a grandfather, it's just time."
Before that, however, he is guaranteed a warm welcome in Keady when he completes the mammoth walk later on Monday.