DUP/Sinn Féin rift runs deeper than key issues themselves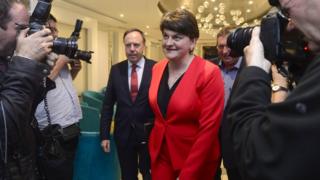 It was billed as a significant speech by the DUP leader - a potential game changer that could break the political deadlock.
But within minutes of Arlene Foster going public with her "common-sense solution" her one-time political partners Sinn Féin quickly torpedoed it.
As Mrs Foster was leaving the stage, the Sinn Féin press machine was moving into overdrive.
Michelle O'Neill had intended to issue her response on Friday morning, but the party clearly didn't want the DUP's "new thinking" to gain traction with the public overnight.
What it shows is that both parties are acutely aware of being on the right side of public opinion if, as expected, a deal is beyond them.
Putting her plan in the public domain before putting it on the talks table was a new strategy for the DUP leader.
It raises the stakes at a time when public patience is fast running out in the face of mounting cuts in health and education.
But it will do little to build trust around the talks table.
As for Arlene Foster's plan, it is not the first time the DUP has talked about a parallel process, but the move to agree legislation on language and culture in a time-limited period is new.
It is the strongest hint yet that the party is prepared to move on legislating for Irish language but stopping short of what Sinn Féin have called for.
But the problems at Stormont run much deeper than culture and language.
It's about rebuilding a broken political relationship.
What happened last night has done little to heal that rift.