Tiesto gig assault could leave teenager with permanent eye damage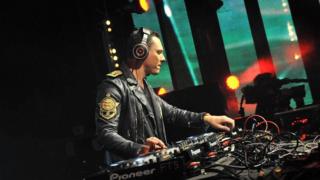 A teenager may suffer from permanent vision damage after his eye was badly injured in an assault following a concert in Belfast, police have said.
The PSNI have appealed for information after the 16-year-old was attacked on Saturday after a gig by Tiesto.
The teenager, from Dundalk, County Louth, sustained a shattered cheekbone, dislocated nose, a rip to the back of one eye and other serious injuries.
The assault happened on the Boucher Road at about midnight.
Police said that the 16-year-old and his girlfriend were making their way to board a bus home when he was attacked.
They want to speak to a white man in his late teens who was seen standing on the steps of a white bus, wearing denim shorts and no top. The man is described as having short dark hair, average build and height and a Northern Irish accent.
"It is reported that following a verbal exchange, this male kicked and punched the 16-year-old in the face, before another four men got out of the bus and became involved in the assault," said Det Insp Richard Thornton.