Rare red kite shot dead in County Down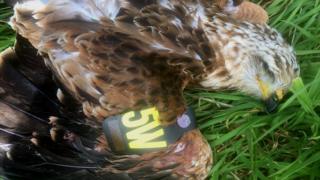 A red kite has been found dead with gunshot wounds in County Down.
The three-month-old bird was found on a public laneway outside Moneyslane, between Banbridge and Newcastle, last Thursday.
An initial x-ray indicated pieces of shot in the bird, and it has now been sent for a post-mortem examination.
The red kite, tagged 'Black 5W', was born in May at a nest site near Downpatrick.
Alan Ferguson, of the Royal for Protection of Birds, said: "Any loss of these under-threat birds is utterly heartbreaking.
"Our red kite population in Northern Ireland is small at just 20 breeding pairs and that makes it particularly vulnerable to losses.
"It would appear that someone has deliberately targeted one of these beautiful creatures, so this is incredibly frustrating and upsetting and is a real setback for the future of the species here."
The RSPB NI has been working on a red kite reintroduction programme for nine years.
"I really thought we were turning a corner, because persecution incidents seemed to be dropping off and the last confirmed shooting of a red kite happened in Crossgar in 2014," said Mr Ferguson.
"People have really taken the birds to heart and are happy to see them in our skies again."
Police are appealing for information about the incident.
Red kites, along with all birds of prey, are protected in Northern Ireland under the Wildlife (Northern Ireland) Order 1985.
The birds are mainly scavengers, feeding on road kill and other dead animals they find.
During the breeding season, adults will hunt young crows, magpies, rats and rabbits. They are no threat to livestock or game and play an active role in the ecosystem managing pest species.
Red kites were persecuted to extinction across the island of Ireland 200 years ago.
In 2008 the RSPB, along with project partners the Golden Eagle Trust and Welsh Kite Trust, began a reintroduction project that has been successful in encouraging the birds to breed here.