Paper review: Brexit border, Hyde Park, champion mother
By Amy Stewart
BBC News NI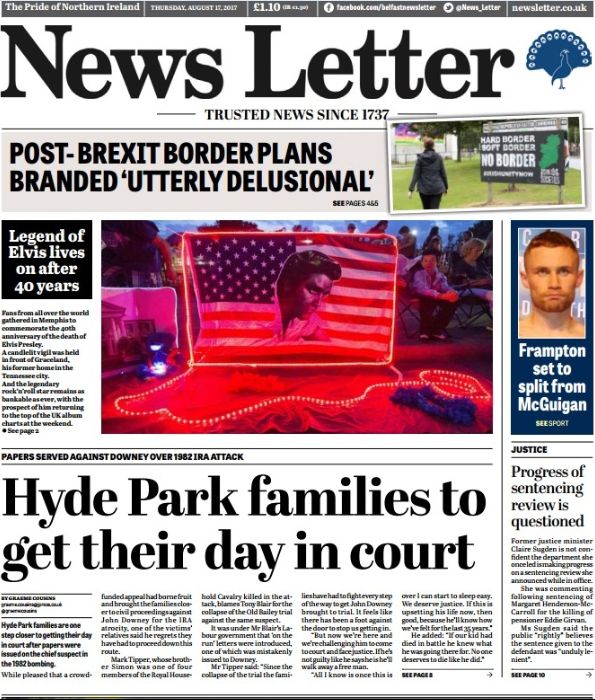 It's another day where the front pages are singing from different hymn sheets.
The Irish News has a dramatic front page, with a throw-back picture of a customs border in stark contrast with an EU flag.
"No return to this" it states. The paper reports what the UK government have continued to say, that "no new infrastructure" will be deployed across the border post-Brexit.
It reports that key to the UK approach to Brexit negotiations is to ensure the "Good Friday agreement and the Common Travel Area," are upheld.
Nationalist politicians aren't so sure, report the papers. Michelle O'Neill described the Ireland Brexit paper as "conflicting" and "confused".
Sinn Féin's northern leader says she is "not comforted" by it.
She also believes her husband's killers will never face justice: "I don't for a second think that the ones involved were acting on their own or were rogue.
"But I don't hold out hope anybody will ever been convicted," she tells the paper.
The paper's front page also raises the million dollar question. Can there be a seamless border after Brexit? One County Down oyster farmer gives the idea short shrift.
Darren Cunningham, who runs Killowen Shellfish on the shores of Carlingford Lough says it's "rubbish" to think that such a vision is achievable: "Light touch? I just cant see that working.
"Unless they go and look at the back of every lorry, the way it was in the past. And I remember those days," he says.
The development came after court papers were issued on the chief suspect in the 1982 bombing.
The paper quotes Mark Tipper, whose brother Simon was one of four horse member of the Royal Household Cavalry killed in the attack.
It happened after an official assurance given in error meant John Downey - who had denied murder - could not be prosecuted.
A crowd funded appeal now means the families are closer to civil proceedings.
"We deserve justice. If this is upsetting his life now, then good because he'll know how we've felt for the last 35 years," he said.
The Belfast Telegraph reports on a dentist unlike any other.
However, just a year ago the mother of four had "no notion of national or local honours".
Ursula had been going to fitness classes one night a week to keep her fitness levels up but was encouraged by Mary Robinson, to compete.
Now she's won the over 40s novice section at the championships at the National Sports Centre in Lilleshall, home of British Gymnastics.
Ursula said she hadn't expected the win and was "flabbergasted, but delighted".
What else but a shaggy dog story for an "and finally"?
The oldest and longest serving PSNI police dog, PD Brodie, born in 2010, is retire at the end of this year.
The News Letter has a picture of the handsome chap.
In a post on their Facebook page PSNI Newtownabbey reported on the success of Brodie's most recent mission in tracking down a man, who was believed to have a knife.
"With a bit of friendly advice from Brodie's handler and a lot of not so friendly advice from Brodie the male quickly gave himself up and was arrested without a fight."
Brodie will continue to catch criminals until he retires.
Enjoy your retirement Brodie, eat as many doggie treats as you want.