Vaginal mesh campaigners welcome 'major development'
By Marie-Louise Connolly
BBC News NI Health Correspondent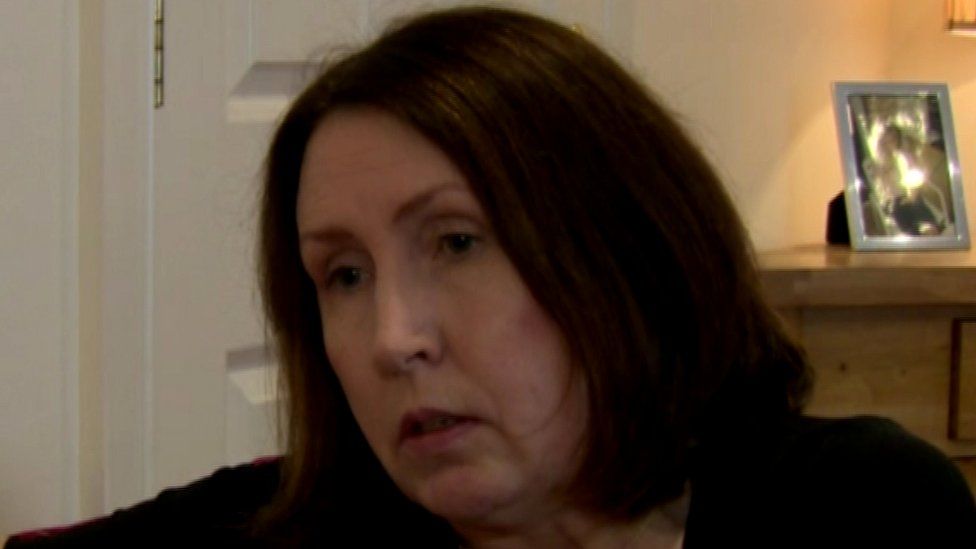 At least one woman in Northern Ireland has been offered a surgical consultation in London, with a view to removing her vaginal mesh implant.
The offer was made by the Belfast Health Trust.
It follows BBC reports that a number of women felt physically and mentally scarred after having the implants.
A support group for women from Northern Ireland who have had the surgery has described the move as a major development.
In a statement, the Belfast Health Trust said it would treat each case individually but for those whose condition is more complex it would "refer, using the extra contractual referral guidance, to a clinical centre in London."
In June 2017, a group of women from across Northern Ireland went public with very personal accounts of how mesh implants had left them physically and mentally wrecked.
The implants are used by surgeons to treat organ prolapse and urinary incontinence.
Law lecturer Mary McLaughlin said she had been left in constant physical pain since her operation in 2008.
"My bowel has stopped working, my bladder has stopped working - this means that all my social interactions have been curtailed and I only leave the house if I can," she said.
"You feel very lonely and you feel that people do not realise you are in pain."
Many of the women have criticised the health trusts for ignoring their complaints - but in a major development, Ms McLaughlin has heard that the Belfast Health Trust has agreed to send her to London to see a specialist.
She said the past 10 months had been spent writing to consultants and the Belfast Health Trust, who she said passed her around like a parcel from one doctor to another.
"I have a back ground in law and public policy and I have found it incredibly difficult to move this to a transfer to the extra contractual referral," she said.
"It is a closed system, the patient is excluded, we do not see the documents that are submitted and the trust has stonewalled me on several occasions."
Susan McLarnon, from the support group Meshed Up NI, said the group had been "encouraged" by the news. There are now 250 people in the support group.
"We hope that this now sets a precedent for other women - there are three others waiting on confirmation to also go to England," she said.