Cranfield beach jet ski rescue as teen's lilo swept to sea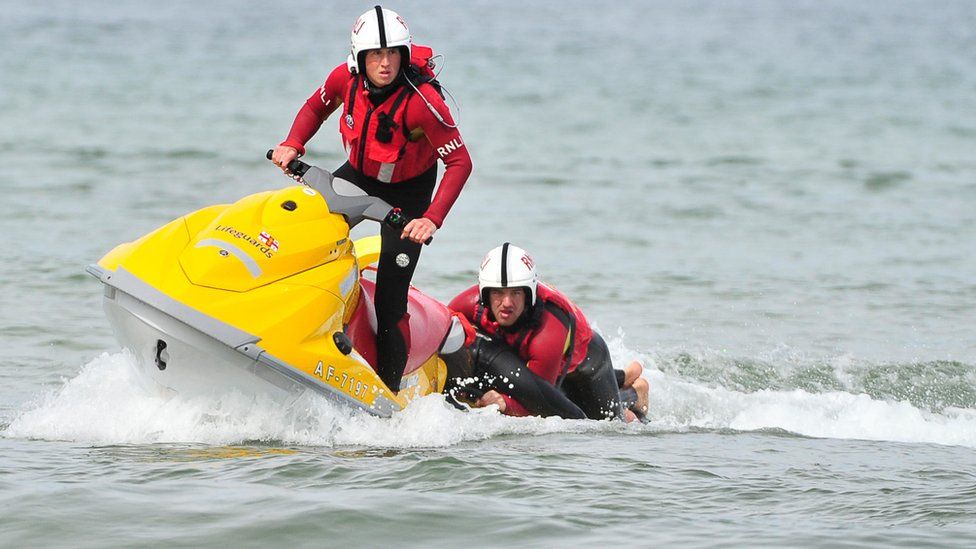 A teenager has been rescued after he was swept on a lilo 300 metres out to sea by an offshore wind.
The incident happened at Cranfield beach in County Down on Wednesday afternoon.
The alarm was raised by the teenager's friends at about 15:40 BST and two RNLI lifeguards went out on a jet ski to rescue him.
As they went to his aid they noticed a canoeist waving to them. They found the teenager clinging to the canoe.
The RNLI said he was "extremely cold, shivering and showing signs of hypothermia".
Lilos 'can lead to difficulty'
The lifeguards brought the youth back to the beach where they worked with Kilkeel Coastguard to keep him warm until an ambulance crew arrived.
Weather conditions were described as good with clear and sunny skies when the incident happened.
RNLI Lifeguard Supervisor Jason Nugent wished the casualty a speedy recovery after "what must have been a frightening experience".
"We would also like to commend the casualty's friends for raising the alarm and the canoeist who stayed with him until the lifeguards arrived on scene," said Mr Nugent.
"We would remind anyone planning a trip to the beach to always swim between the red and yellow flags on a lifeguarded beach.
"We would ask the public to also remember that inflatables such as lilos are designed for pools and not the open sea, where they can be easily swept out by offshore winds and lead you into difficulty."