Gilbert and George to return to NI with exhibition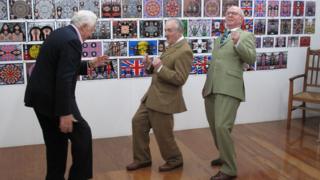 Artists Gilbert and George are to stage an exhibition in Northern Ireland for the first time in almost 20 years.
A major show of the well-known pair's work will take place in the Metropolitan Arts Centre (MAC) in Belfast early next year.
It will run from 25 January 2018 until 31 March 2018.
Gilbert and George visited the city centre venue on Wednesday to inspect the gallery where their works will show.
'Naked portraits'
Their last exhibition in Belfast was held in the now-closed Ormeau Baths Gallery in the city in 1999.
That show, which included naked portraits of the artists themselves, prompted protests by members of the Free Presbyterian Church.
The pair, George Passmore and Gilbert Proesch, are among the world's most famous artists.
They have worked together since meeting at St Martin's School of Art in 1967.
They are known for their immaculate tweed suits and often subversive and frank artwork involving sexual themes, religious symbolism and bodily fluids.