Mother accepts settlement over pregnancy discrimination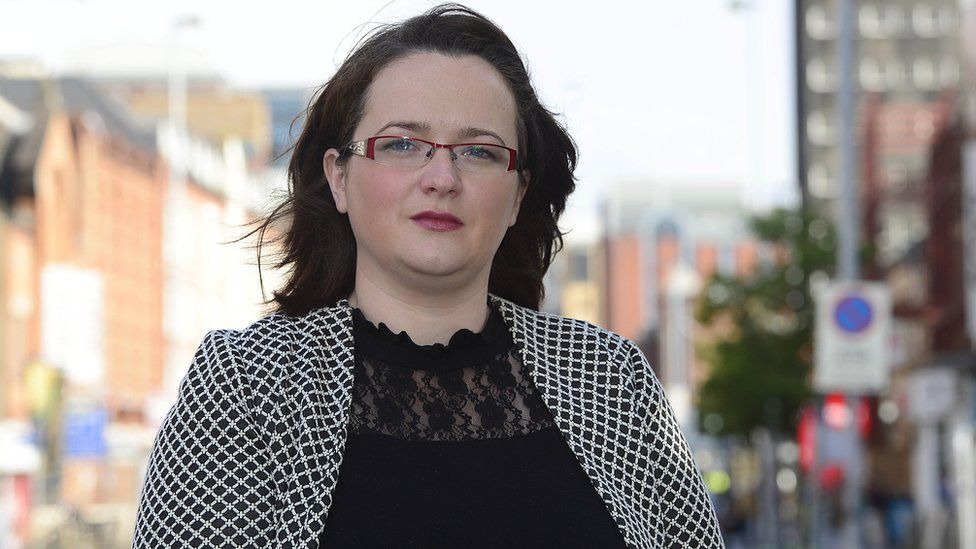 A woman who lost her job while she was on maternity leave has accepted a £9,000 settlement from her ex-employer after taking a sex discrimination case.
Áine Magorrian from Castlewellan, County Down, was made redundant by Saliis, a renewable energy firm, five months into her second maternity leave.
Her legal challenge alleged unfair dismissal and unlawful discrimination on grounds of gender and pregnancy.
The case was settled before it reached an industrial tribunal hearing.
Mrs Magorrian joined the firm in early 2013 and was employed as an operations and maintenance manager.
She lost her job in October 2016, while she was on maternity leave with her second child.
"I had always worked hard for the company and believe I made a very positive contribution to its work," she said.
"Finding out that I was to be made redundant five months into my maternity leave was devastating for me and my family."
Mrs Magorrian was assisted in challenging her employer by the Equality Commission for Northern Ireland.
The commission said the problem began after the birth of her first child, when her role was changed while she was on maternity leave.
The watchdog said Mrs Magorrian did not pursue a complaint at that time after "being assured by her employer that her new role was more secure".
Illness during her second pregnancy resulted in Mrs Magorrian having to take sick leave.
She alleged that during her absence, two new workers were recruited to carry out the work she had been doing.
When she returned from sick leave, she was moved to other duties and months after her second child was born, she was made redundant.
The company initially defended the redundancy, saying it was due to a loss of contracts and a downturn in work in the renewables sector.
However, the commission said her employers has since agreed a settlement and "expressed their regret for any upset to Mrs Magorrian".
"It has also undertaken to meet with the Equality Commission to review its redundancy, maternity and equal opportunities policies and to consider the commission's recommendations for any amendments and the training of staff," the watchdog said.
Mary Kitson from the Equality Commission said workplace discrimination on the grounds of pregnancy and maternity was still a "major issue" in Northern Ireland.
Last year, the commission carried out an investigation into the treatment of pregnant workers and mothers in the workplace and Ms Kitson said half of the women who responded "said that they felt their career opportunities had been damaged by their pregnancy or maternity leave".
Mrs Magorrian has since moved on to another job said she was "glad this episode is over".
"I hope that, by telling people about this case, other women can avoid finding themselves in the same situation."
A spokesperson for Saliis said: "We have a history of helping and supporting our team during maternity leave, through sickness and other life events.
"Due to the nature of the renewables business, there are often fluctuations in demand and on this occasion, it was unfortunate that we had to make the role of Operations and Maintenance Manager redundant.
"We settled this case as, in this instance, we acknowledge that our redundancy procedures could have been more robust, and we have put steps in place to ensure that our policies and procedures are properly adhered to at all times," they added.