Belfast City Council bonfire policy 'intact', says SDLP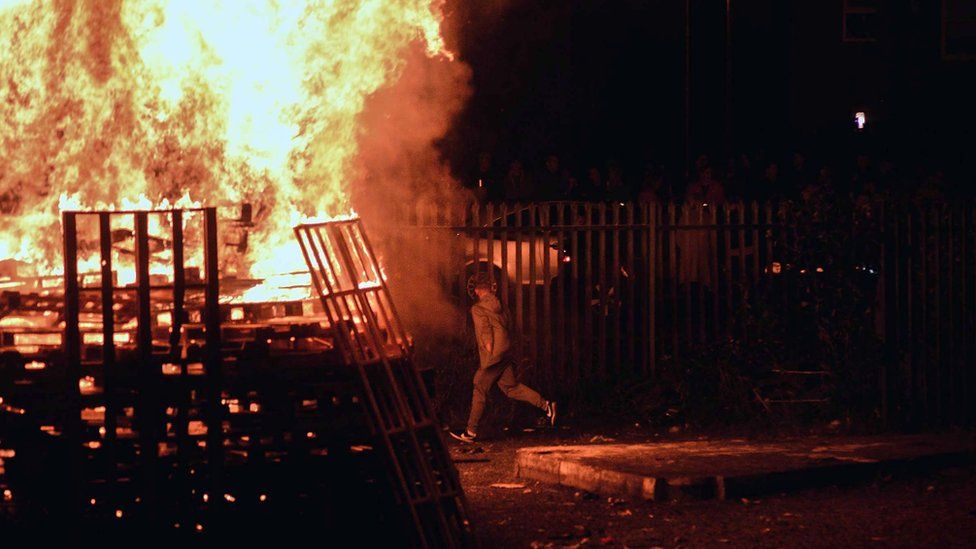 Belfast City Council's new bonfire policy is intact, even though no contractor is now in place to remove bonfire material, the SDLP has said.
Two council vehicles were attacked and a council worker suffered minor injuries on Tuesday.
On Tuesday, the council told the BBC a contractor was no longer in place.
However, SDLP councillor Tim Attwood said: "We've had this situation in the past, and I'm certain in the future we'll be able to get a contractor."
"When there's specific threats or community tension, the contractor refuses to go in, understandably.
"We will have a contractor in place again in future, and when it's safe to go in, with police support, we will do so."
The council bonfires motion was supported by Sinn Féin, the SDLP and the Alliance Party.
Disturbances also occurred in other nationalist areas, including the Falls in west Belfast and New Lodge in the north of the city.
Earlier, Sinn Féin condemned the actions of youths during anti-internment bonfires, after reports that police and cars were also attacked on Tuesday night.
The party's north Belfast councillor, JJ Magee, said he understood two cars were set alight in the New Lodge and one petrol bomb was thrown at police.
Bonfires are traditionally lit in some republican areas to mark the anniversary of the introduction of internment - detention without trial - on 9 August 1971.
The police said North Queen Street was closed for a time on Tuesday night after a car was set alight.
Sinn Féin said the violence of recent days had nothing to do with marking the anniversary of internment and blamed "an anti-social element".
Mr Magee said New Lodge residents did not want the bonfire and had been "let down" by the statutory authorities.
Mr Magee said it is his understanding that the contractor pulled out on Monday "because of the trouble in the Markets".
The New Lodge bonfire, which is close to high rise flats, was lit at about midnight on Tuesday.
"We're very, very disappointed as a community," Mr Magee said.
"The residents who live cheek-by-jowl with this bonfire, who wanted it lifted, who wanted it removed, were again let down for the third year in a row when the statutory agencies couldn't fulfil their part of the agreement and lift this bonfire wood."