Georgina McKeown: From champion cyclist to centenarian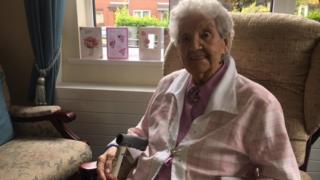 There are few centenarians who can boast as action-packed a 100 years as one woman from County Down.
Georgina McKeown, who is 100 on Thursday, was a record breaking cyclist in 1953.
She became the first woman to win the Best All Rounder (BAR) cup, and travelled all over the world with her husband and her beloved bicycle.
She still keeps her cycling days alive. "Every morning I do my leg exercises in bed, mimicking cycling for 10 minutes".
"Then I get up and do my arm exercises, which keeps me really fit. I do outside bowling when I can as well and just love all kinds of exercise".
Georgina, known as Ena, believes cycling is the secret to a long life.
The amazing pensioner broke the record for the time it took to cycle from Derry Post Office to Belfast Post Office in 1953. She had four hours to do it and did it in three hours and 46 minutes.
But it wasn't without its challenges.
"Coming over the Glenshane Pass, I had a puncture and had to change onto another bike," she recalled
"Then coming through Toome, I pulled a muscle, but I changed the gear and still broke the record".
Ena told the BBC she had been celebrating her big birthday already with a" spot of dancing".
"It's been great - I've had nothing but parties and cake. I go to an over 55s club and had a lovely dinner, with music so I was up dancing".
Ena's husband, who was also a cyclist, passed away in 1968, when the couple were on holiday, so she has lived nearly half of her life without him.
"It is a long time to be alone," said Ena but despite the fact that she misses him dreadfully but she said she is grateful for the "happy memories she can cherish".
"We love children and family but we put cycling in front of that so we never had any," she added.
There are more centenarians in the UK than ever before.
The number of people aged 100, or over, has quadrupled over the last two decades, according to Office for National Statistics.
In the last decade alone, the number of centenarians has risen by 65% or 5,720
There has also been a dramatic increase in the number of people aged over 105. Last year there were 850 reaching the age of 105, up from 130 in 1985.
As well as the many sporting triumphs in her life, Ena survived what was described as the worst accident on Ireland's railways since 1889.
In 1945 she was involved in the Ballymacarrett railway disaster which claimed more than 20 lives.
"We got on the train, and at Sydenham the train crashed. Everybody on the train was lying about everywhere. They were all shouting 'Watch my legs, my legs, don't walk over me, I can't see you'.
"I had to go to the Royal Victoria Hospital to be examined but I was so fortunate to survive."
After the incident Ena said that she appreciated her life even more.
Ena does not feel, however, that the world has changed for the better in the last century.
"It's changed terribly. People aren't the same as they used to be.
"We used to have such a lovely time, everybody together and everyone cycled everywhere."
Does she have any regrets?
"I can't say I have because I was a good sportswoman and was so happy doing that," she said.
"The advice I would give to any young person would be, keep cycling - it's a good exercise and gets your to places you wouldn't get to walk."
You heard the woman - get on your bike.