Northern Ireland anti-abortion advert complaints dismissed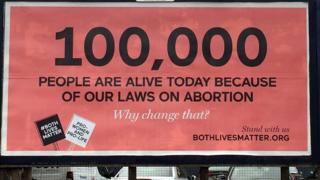 Complaints about a Northern Ireland anti-abortion billboard campaign have been dismissed by the advertising regulator.
The Both Lives Matter group's billboard read: "100,000 people are alive today because of our laws on abortion. Why change that?"
The Advertising Standards Authority (ASA) said it received 14 complaints.
The complainants said the advert was misleading and the figure could not be substantiated.
Northern Ireland's abortion law is much stricter than the rest of the UK.
Abortion is only permitted in Northern Ireland if a woman's life is at risk or there is a permanent or serious risk to her mental or physical health.
Fatal foetal abnormalities, rape and incest are not circumstances in which abortions can be performed legally.
Both Lives Matter said it had attempted to estimate the number of people alive in Northern Ireland today because the 1967 Abortion Act introduced in Great Britain had not been introduced in Northern Ireland.
It said it was not possible to calculate an exact figure, but 100,000 represented a credible and conservative estimate.
It provided a link to a report it had published on its website, outlining the methodology it had used to arrive at the figure, which considered the abortion rates in other parts of the UK.
'Reasonable probability'
The ASA said it considered that readers were "likely to understand the claim to relate to the number of individuals alive today that were born to mothers who would have aborted their pregnancy if it had been legal to do so.
"We noted the views of many of the complainants that the claim was presented as an absolute, objective claim and therefore would be understood by readers of the ad to be a precise figure rather than an estimate.
"However, we considered that 100,000 was a large, round number that readers would typically associate with estimates."
It added: "On balance, we concluded that the evidence indicated that there was a reasonable probability that around 100,000 people were alive in Northern Ireland today who would have otherwise been aborted had it been legal to do so.
"Because we considered that readers would understand the figure to represent an estimate, we concluded that the claim was unlikely to materially mislead readers."
'Dangerous figure'
Fiona Ferguson from the People Before Profit party said she had concerns about the advert.
"When we talk about 100,000 pregnancies, we don't talk about 100,000 women," she said.
"We don't talk about how many of those women died during childbirth; how many of those women were forced to give birth against their will because they weren't able to travel to England; how many of those pregnancies resulted in disabilities or shortened lives."
She said there was no talk of "how many of those children were born to women who developed mental illnesses as a result of pregnancy and therefore could have ended up in care".
"I think it's a risky, dangerous figure to just slap on a billboard for an effect, when actually they're claiming to care for both lives of mother and unborn child."
However, Both Lives Matter's Dawn McEvoy said: "We're about much more than the 100,00 figure, we're exactly about both lives, I myself have had a pregnancy crisis.
"We are definitely not just talking about unborn children."