Northern Ireland air ambulance service launches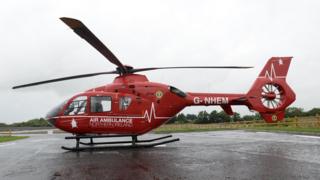 A new helicopter ambulance for Northern Ireland is fully operational from Wednesday.
It will cost £2m a year to run and will be dependent on public donations.
There is a landing base at the former Maze prison site in County Antrim and a back-up at St Angelo outside Enniskillen.
The service will operate with a doctor and paramedic on board. Northern Ireland was previously the only area in the UK without such a service.
The helicopter will be able to reach any part of Northern Ireland within 25 minutes.
Within minutes of its launch, the new air ambulance was called out from its base.
The air ambulance has already attended a number of incidents during preparatory and training periods over the last few weeks.
"I can't tell you the amount of time it will save in terms of getting a doctor to treat a casualty on site," said Air Ambulance Northern Ireland's Patrick Minne.
"Our first case casualty was taken to Belfast in an eight-minute flight that would probably have taken between 50 and 60 minutes by road."
In that incident last month, Conor McMullan, 11, was involved in a tractor accident in Castlewellan. The air ambulance was scrambled from training to take him to hospital.
The creation of the Helicopter Emergency Medical Service (HEMS) follows a 12-year campaign; the announcement earlier this year that the service would be doctor-led followed an intervention by emergency medics.
Last year, a group of doctors from around the world wrote to then health minister Michelle O'Neill to voice concerns the helicopter service would not have a doctor on board when it was launched.
They were concerned that it could initially be staffed only by paramedics.