Belfast Bikes damage was 'sheer vandalism'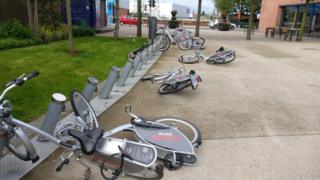 A number of Belfast Bikes have been damaged at CS Lewis Square in east Belfast.
The Police Service of Northern Ireland (PSNI) received reports of the damage at the site on the Newtownards Road on Monday morning.
The public bicycle hire scheme was launched in 2015.
It the latest of a number of attacks on the bikes this year. In April, a number of bikes were pictured dumped in the River Lagan.
Since its launch, the Belfast Bikes scheme has attracted almost 5,000 annual members and more than 5,000 casual users.
Many people have taken to social media to condemn the latest attack, including former Belfast East MLA Sammy Douglas who described it as "sheer vandalism".
Belfast City Council said it "continues to work closely with the PSNI to address vandalism".
The police have appealed for anyone with information to come forward.