Summer lifeguard patrols on 11 Northern Ireland beaches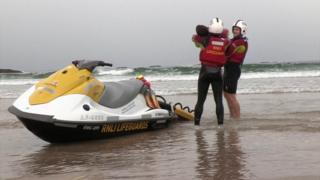 RNLI lifeguards will begin full-time summer patrolling on 11 beaches in Northern Ireland this weekend.
They will be on eight beaches daily along the Causeway Coast and three in County Down.
Last year, lifeguards in Northern Ireland responded to 235 incidents, coming to the aid of 255 people.
Incidents ranged from saving a life, rescues, providing casualty care and being involved in searches, near misses and incidents involving missing people.
Lifeguards will be on the beach daily between 23:00 BST 19:00 BST on the Causeway Coast and between 10:00 BST and 18:00 BST in County Down.
This will continue until Sunday 3 September, when weekend duty will resume on selected beaches.
Beaches being patrolled full-time by lifeguards:
Benone
Downhill
Castlerock
Portstewart Strand
Portrush West
Portrush East
Whiterocks
Ballycastle
Tyrella
Murlough
Cranfield
RNLI lifeguards are also offering teaching sessions for children on how to stay safe in open water.
Swim Safe features free hour-long sessions for 7-14 year olds. Sessions will be held at Groomsport Beach, from 17-21 July.
RNLI lifeguard supervisor Karl O'Neil said: "Pre-season preparations have went well and our lifeguards are ready and looking forward to getting back on the beaches and doing what they do best, providing beach safety advice to visitors and helping out anyone who might find themselves in difficulty either in the water or on the beach itself.
"We would remind anyone planning a trip to the beach to be mindful that particularly at this stage in the season the water is still cold. Come dressed for the weather conditions to ensure your visit is both safe and enjoyable."