Northern Ireland students owe £3bn to loans company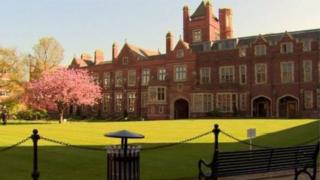 Students who have studied at Northern Ireland's universities owe £3bn in tuition fee and maintenance loan debt.
That is a rise of 10.6% on last year's figure of £2.7bn.
The 2016/17 statistics on how much students in Northern Ireland owe and how much they have repaid have been released by the Student Loans Company.
It is the government-owned body which pays and collects tuition fee and living costs loans to universities and students.
Students in Northern Ireland who had to start repaying their loans in 2017 owe £20,990 on average.
Rising debts
That represents a rise of just over £1,700 compared to those who started repaying in 2016.
Almost 250,000 (222,700) students in Northern Ireland have taken out loans to cover tuition fees and living costs since the current loans system began in 1998/99.
However, only 28,100 who have taken loans in Northern Ireland have fully repaid them.
In 2016/17, students in Northern Ireland borrowed £196.8m in tuition fees and just over £134m in maintenance loans, a total of almost £331m.
That is a rise of almost 5% on the amounts they borrowed in the previous year.
Students can borrow the cost of their yearly university tuition fees, which is set at £4,030 in Northern Ireland in 2017/18 or £9,250 elsewhere in the UK.
More you earn, the more you repay
They can also take out a maintenance loan for living costs, which is capped at £3,750 if they live at home, or £4,840 if they live away from their parental home but outside London.
Some students in Northern Ireland from low income backgrounds can also get a grant to help pay for living costs.
They begin to pay back their loans when they get a job and are earning more than £17,775 per year.
The more a graduate earns, the bigger the proportion of their loan they repay.
Loan debt is written off if the student has not repaid within 25 years of ending their university course.
The vast majority of students referred to in the Student Loan Company's figures are Northern Irish students studying at universities in Northern Ireland, although EU students studying in Northern Ireland are also included.
Students studying in Northern Ireland, however, still owe less when leaving university than their counterparts who study at English universities.
A student at an English university who had to start repaying their loan in 2017 owed £32,220 on average.
That is a sharp rise of about £7,500 on last year's average showing the rise in tuition fees students in England pay in England is taking effect.
Collectively, students across the UK now owe over £100bn in loans.