Teenage girls 'shaken' by racial abuse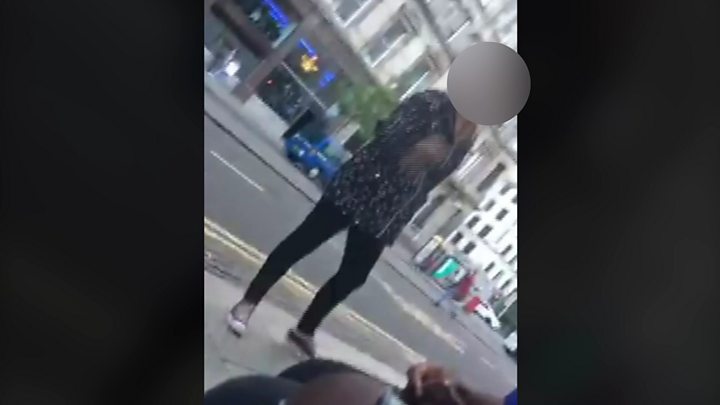 Two 17-year-old girls have said they have been left badly shaken after being racially abused in Belfast city centre at the weekend.
The incident, at Donegall Square West, happened at about 21:00 BST on Saturday.
Video footage of the woman shouting abuse at Fatima, from Sudan, and Solyana, from Eritrea, has been widely shared on social media.
A third girl, who is 13, was also there.
The girls said the woman asked them for a lighter, before leaving and coming back.
"She started swearing at us and telling us that it is not our country and that we came here and stole people's jobs and houses," Fatima said.
'Scared and devastated'
Fatima said the girls feared the woman would physically attack them.
"I was so scared and devastated and upset and because I was walking home later, I had to go the way she went and I was terrified she might come out of nowhere and attack me," she said.
Fatima told the BBC that minor racist incidents take place sometimes, but that this is the first time an adult has abused her.
"My family were all devastated and they're scared to let me out, but they know this doesn't happen that much so they're all right now about it," she said.
Fatima's family left Sudan 11 years ago to move to Northern Ireland.
"I don't know anywhere else. This is my home, so for someone that's from here to tell me I'm not from here and that I'm stealing their jobs made me feel very upset," she said.
'Taking our jobs'
Solyana arrived in Northern Ireland four years ago and said the incident left her in shock.
"She was saying things like 'you're taking our jobs, our homes. We're white, you're black, I'm white you shouldn't be here, you are taking everything from me'," she said.
"She was just blaming us for things that aren't our fault.
"There are small racist comments in school, but nothing like this has ever happened. You see it on social media elsewhere, but we never thought it would happen to us in Belfast.
"It hasn't changed my perspective on Northern Ireland as the people are the same and that is just one person's opinion. I still love people from here and I feel welcomed and this is my country too."
The police said officers arrived on the scene shortly after the incident, but were unable to find the woman, who is described as having blonde hair and being in in her late teens or 20s.
They have appealed for anyone with information to contact them.