Man who went fishing overnight rescued from Glenarm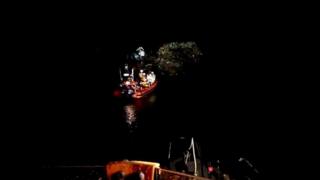 A man who was fishing at Glenarm marina in County Antrim overnight has been rescued after falling on the wet rocks.
His girlfriend, who was with him at the time, raised the alarm with the coastguard just after 02:30 BST on Saturday.
The man had fallen down between two boulders and was semi-conscious during the rescue.
He was taken to Antrim Area Hospital with suspected spinal injuries and later discharged.
Paddy McLaughlin from the Red Bay RNLI said it took the team more than an hour to get the man to safety.
"It was a pretty miserable night, with strong winds and it was raining very hard," said Mr McLaughlin.
"He is a very lucky man.
"With the help of the coastguard we were able to get the man safely into the lifeboat and onto the stretcher."