Messines: They came, they saw, they remembered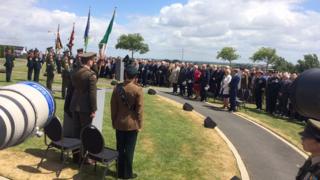 They came, they saw, they remembered.
Hundreds of people from across Ireland gathered in the shadow of the round tower at the Island of Ireland Peace Park at Messines to commemorate the fallen of the 36th Ulster and 16th Irish Divisions.
This was a unique occasion for many reasons.
Catholic and Protestant, unionist and nationalist were one in paying tribute to the soldiers from across the island of Ireland who died in the Battle of Messines Ridge a century ago.
Old animosities were set aside, at least for this special day, as the British and Irish jointly commemorated the dead.
Orangemen wearing their collarettes stood side-by-side with people from the Republic of Ireland as the band played the national anthems of Belgium, Ireland and the United Kingdom.
The solemnity of the occasion was never broken.
The blustery winds that swept across the exposed hillside on Flanders fields did nothing to ruffle the dignity of the ceremony.
Wreathes adorned with red, white and blue and green, white and orange were laid against the stone tower wall and during the one minute silence only bird song could be heard.
The politicians from all the major parties in Ireland paid their respects without embarrassment or question of "should I be here?"
Princess Astrid of Belgium sat between the Duke of Cambridge, Prince William and Taoiseach (Irish Prime Minister) Enda Kenny.
Behind them sat rows of people who had travelled to the ceremony and all that spoke to were glad they had made the effort to be there.
Glen Barr, a former senior figure within the Ulster Defence Association (UDA) was there, as were relatives of Paddy Harte, the former TD (Member of the Irish Parliament).
These two men in particular had been instrumental in setting up the Peace Park.
Both spoke of the pride they felt in seeing a day like this come about.
They emphasised the importance of both traditions in Ireland learning from lessons of the past.
The Great War proved to be the ultimate lesson for many but it was not the war to end all wars.
In a hundred year's time, it is likely that another generation will gather here to remember and reflect on what further changes have taken place in the long and at times tortured history of Anglo-Irish relations.