General election 2017: NI electorate goes to the polls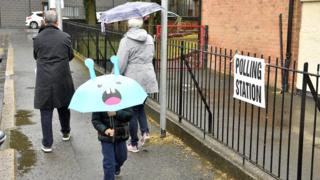 Voting in the general election is continuing at Northern Ireland's 619 polling stations.
A total of 109 candidates are standing across Northern Ireland and 1.2m voters are eligible to vote.
Northern Ireland's polling stations and 1,380 ballot boxes opened at 07:00 BST and are due to close at 22:00.
Counting will take place overnight at seven different centres and the first results in Northern Ireland are expected at about 01:00 on Friday.
Voters have been warned of heavy showers, and possibly hail and thunder in places, on Thursday afternoon.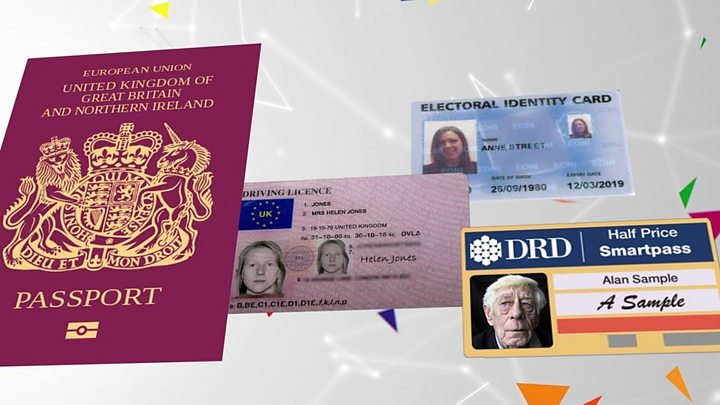 There is also a risk of flooding and low-level travel disruption.
Staff at one polling station in north Belfast had to make alternative arrangements when the roof of the building partially collapsed overnight, but it will not affect voting.
'Problem-solving'
Northern Ireland's chief electoral officer Virginia McVea told BBC Radio Ulster she believed it happened at Holy Trinity and St Silas church hall in Ballysillan.
"As an indicator of the rapid response and the pragmatism of our teams and all of the people who help us from the general public, they've been able to move into a minor hall," she said.
"That's the way people operate and I'm very grateful for the problem-solving approach that they take."
Meanwhile, it is understood a voter's car was stolen outside a polling station in south Belfast's Finaghy area.
Police confirmed a car was stolen on Finaghy Road South.
At polling stations, voters will require photographic ID such as a passport, a driving licence or a Translink smartpass.
The chief electoral officer confirmed that the relevant ID can still be used to vote even if it has expired.
"Photographic ID is the crucial point, and an electoral ID card from the Electoral Office will also suffice; driving licence photographic ID and then the various smart passes," Ms McVeigh said.
"If you're in any doubt, have a look on the website."
She said bringing along polling cards that were posted to all registered voters was optional, as it might speed the process up, but it is not essential.
Once voters have been handed their ballot paper, they should place a single "X" against the candidate of their choice.
'Secrecy'
The chief electoral officer reminded the public that taking photographs inside polling stations is not permitted.
"We would ask people not to bring their phones out in polling stations at all, that's the direction we give to our own staff.
"The law is actually very clear in maintaining the secrecy of the ballot and we'll do all that we can to ensure that."
The Northern Ireland Electoral Office (NIEO) has said that those who arrive at a polling station before 22:00 BST and are waiting in a queue will still be allowed to vote.
This year, the DUP is standing in 17 constituencies while the UUP is standing in 14.
Sinn Féin, the SDLP and the Alliance Party are standing candidates in all 18 constituencies.
The Green Party and Conservatives are standing seven candidates while People Before Profit and the Workers Party have two candidates each.
Traditional Unionist Voice (TUV) and Citizens Independent Social Thought Alliance (CISTA) have each put forward one candidate.
There are also five independent candidates.
BBC News NI is providing full coverage of the results online, on television and radio.
Full coverage of the declaration of the local results will begin at 21:55 on the BBC News NI website, BBC One and BBC Radio Ulster.