Plane crew 'lucky' to escape Castlewellan crash injury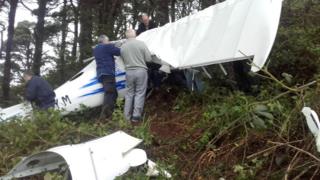 A man and woman who escaped injury after their light aircraft crash landed in a County Down forest park were "phenomenally lucky", the Mourne Mountain Rescue Team has said.
The plane went down at the Dolly's Brae entrance of Castlewellan Forest Park at about 16:50 BST on Monday.
Both pilot and passenger were able to walk away from the wreckage.
"It is horrendous landscape and visibility was very poor," a spokesman for the rescue team said.
"A few feet either way and the fuselage would have hit a tree."
Police, ambulance, the fire service and the mountain rescue team were called to the scene.
But in the event, the two people escaped from the plane themselves and walked down a forest road to meet the emergency services.
"You couldn't get a better outcome for a call like that," the spokesman said.
The ambulance service said that two people were discharged after being treated by paramedics.
Kernan Aviation, Portadown, which owns the microplane said: "We are relieved that the pilot and passenger are safe and were able to walk away from the incident.
"All the relevant authorities have been informed and an investigation is under way."
The Department of Agriculture, Environment and Rural Affairs (DAERA), which manages the forest park, said the aircraft had "made an emergency landing".
Members of a local flying club and others examined the aircraft and organised the removal of the wreckage.
It is understood there was low cloud and mist in the area at the time of the crash although it is not yet known what caused the incident.