New Ulster Hospital inpatient ward block opens its doors
By Catherine Smyth
Producer, Health BBC News NI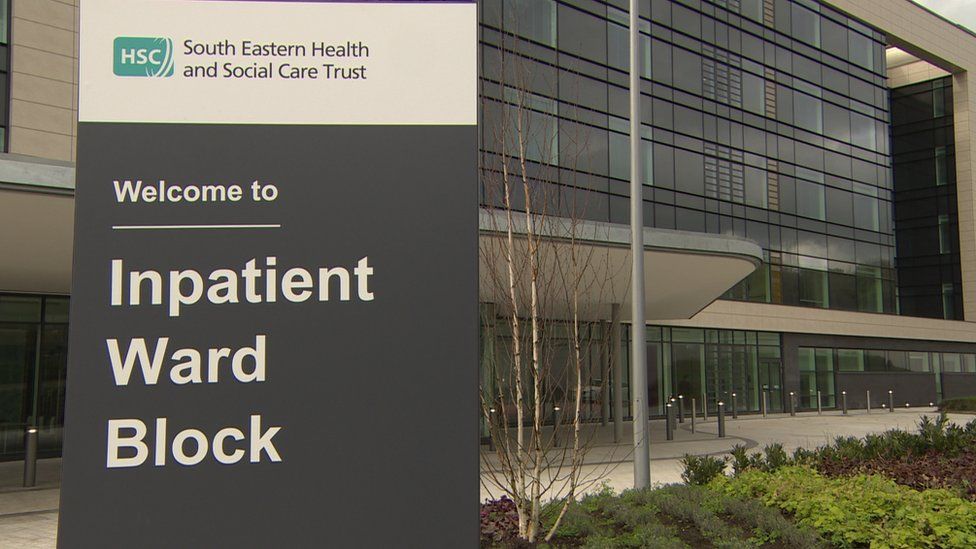 A new multi-million pound in-patient ward block at the Ulster Hospital in Dundonald is opening its doors to patients and staff.
It is part of the second stage of redevelopment at the hospital which began in 2008 at a cost of £261m.
The in-patient ward block cost £112m.
The new building has 12 inpatient wards including 288 en-suite bedrooms and replaces a ward block built in the 1960s.
Cardiac and surgical patients started moving into some of the new wards over the weekend.
The remaining patients, including those from the stroke unit and acute elderly medicine, will be transferred by the summer.
The facility is designed so that natural light streams in from every possible angle.
One of those looking forward to the move is nurse Michelle McCartan.
"We want to move in because the old building is past its sell-by date," she said.
"This one is bright, airy and spacious and all the equipment we need is here. The staff are looking forward to moving in and accepting the change of how we are going to work in it."
Naomi Dunbar, assistant director of strategic and capital development, led the 13-person team behind the project.
"What has been absolutely critical has been the planning - we've had a master plan for this site since 2002 and it's been essential we planned that to [within] an inch of its life," she said.
"We had a very good relationship with the design team, the contractor and the 200 service users - it's all been critical to getting us to the point of opening to our patients this weekend."
Director of hospital services at the South Eastern Trust Seamus McGorran said patients would have a better experience.
"This hospital is a state-of-the-art facility which can deliver the very highest health care and it is going to serve us for the next 50 years and beyond, so it needs to be of good quality," she said.
"The single rooms mean we can afford more privacy and dignity to our patients.
"It can also help us with the management of hospital-associated infection by having 100% single room accommodation.
"So it is not a luxury - it is an absolute need."
The final stage of the redevelopment at the Ulster Hospital began last April.
The trust aims to have the new acute services block open to patients by early 2020.