Anti-illegal scrambler ads dropped after republican pressure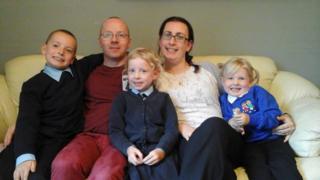 A west Belfast community worker has hit out against a dissident republican group after advertising on black taxis aimed at tackling the illegal use of scramblers and quads was scrapped.
Michael George is a community safety officer in the Colin area.
The campaign was launched after the death of mother of three, Valerie Armstrong.
She died after being hit by a scrambler in Colin Glen Forest Park last July.
'Opposition to PSNI'
The Republican Network for Unity (RNU), called on black taxi bosses to withdraw the advertisements from their vehicles and claimed that drivers were being forced to "advertise the PSNI" on their taxis".
In a lengthy post on Facebook, the RNU called on the wider west Belfast community to "demonstrate their opposition to the PSNI attempting to integrate into our communities".
The advertisements have since been removed from the taxis, however it is not clear if the RNU position is the reason why the Black Taxi Association have decided to scrap the campaign.
Mr George, said he was desperate not to see another scrambler death.
He said: "I'm deeply frustrated. People shouldn't be playing politics with this.
"What is RFU's alternative? I would like it to hear it. What's next? Will they now be telling victims of domestic violence and burglaries not to report them?"
'Small victory'
The Republican Network for Unity said: "This is a small victory for the people of West Belfast and beyond who overtly displayed their disgust at this insensitive practice."
Valerie Armstrong died after she was hit near Mila's Lake in Colin Glen Forest Park.
Mrs Armstrong was walking her dog along a pathway near the lake when she was struck by the scrambler.
She had three young children.
Her husband, Seamus, has spoken out in favour of the advertising campaign on the RNU Belfast Facebook page.