RHI scandal: A small number of dormant companies claim thousands of pounds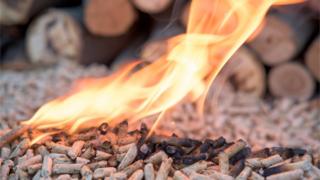 A small number of companies, registered as dormant, have been claiming tens of thousands of pounds from the Renewable Heat Incentive (RHI) scheme.
Details emerged on the Nolan Show on BBC Radio Ulster.
The show said it had a full list of the beneficiaries of the RHI scheme.
A group representing businesses claiming RHI payments has now commissioned an independent review to identify "any members who may be taking advantage of the scheme."
The Renewable Heat Association NI (RHANI) threatened to seek an injunction against the Nolan Show if they published names of all recipients.
There is an interim court injunction in place preventing the Department for the Economy from revealing the names of Renewable Heat Association (RHANI) of Northern Ireland members.
Last month it was announced that retired appeal court judge Sir Patrick Coghlin will chair a public inquiry into the RHI scheme.
The list reveals, in one instance, that a company registered as dormant in 2015 and was still dormant well into last year had claimed more than £239,000 over a 10-month period.
Documents
Companies which are dormant usually do not have significant accounting transactions.
The interim injunction in place preventing the Department for the Economy publishing the full list of recipients will be the subject of a full legal hearing next month.
The injunction was brought by the RHANI, which has more than 500 members. It has argued publishing names would be a breach of privacy and data protection laws.
The Nolan Show said documents it obtained reveal a company claimed more than £250,000 for a single boiler over a period of up to 18 months. None of the companies it contacted answered questions.
In a statement, RHANI said it could not comment on examples cited on the Nolan Show "to avoid speculation on hypotheticals".
It added: "If any RHI claimant is operating illegally they should face the full weight of the law."
The Renewable Heat Incentive scheme was an attempt by the Northern Ireland Executive to help to increase consumption of heat from renewable sources.
However, businesses were receiving more in subsidies than they were paying for renewable fuel and the scheme became majorly oversubscribed.
The fallout from the scandal, which is approximately £490m over budget resulted in the collapse of Stormont's institutions and the calling of snap elections on 2 March.