School principals consulted on industrial action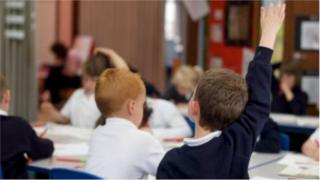 A union representing school principals in Northern Ireland is to consult its members on industrial action.
It is the first time the National Association of Head Teachers (NAHT) has taken the step since 2011.
The NAHT represents principals and vice-principals in around two-thirds of 1,150 schools in Northern Ireland.
Sources told BBC News NI that the industrial action was unlikely to take the form of a strike, but it could not be ruled out.
Instead, they said that any action is likely to target the school inspection process by the Education and Training Inspectorate (ETI).
The NAHT are the only teaching union not currently engaged in industrial action.
None of the four other teaching unions are co-operating with school inspections while two - the INTO and NASUWT - are engaged in strike action over pay.
'Long-running dispute'
An email to members from NAHT president Paul McClenaghan said the pressure on "school leaders is unprecedented and intolerable".
He blamed "the failure of the employers to find a solution to the long-running dispute with the other teaching unions".
"The recent unreasonable actions of the ETI have further served to exacerbate the situation," he added.
"The mounting pressure has put our members health and careers at risk due to no fault of their own."
Mr McClenaghan also writes that the Department of Education and the employers are "failing in their duty of care to school leaders".
The NAHT will seek the views of its members immediately after the half-term break.
"NAHT (NI) do not consider the prospect of action, potentially including industrial action, lightly," the email continues.
"We will communicate with members regarding the action to be taken as soon as possible following the consultation."