Head of Invest NI: Despite Brexit economy is 'thriving'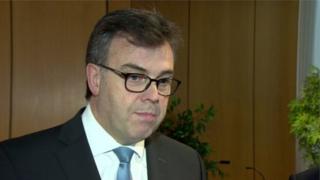 The head of Invest NI has hit back at "pundits pedalling an image of a Northern Ireland on the brink of economic calamity."
Alastair Hamilton made his comments in an article for the Huffington Post which was published in the US last week.
He wrote: "Clearly Brexit will pose challenges for all of UK and Europe, but it is high time people's opinion of Northern Ireland was based on facts and not fiction."
Mr Hamilton stated Northern Ireland is "thriving" and June's referendum has not "stopped the flow" of foreign direct investment.
However he conceded: "We acknowledge what happens in the coming months and years remains to be seen."