Unemployment: NI jobless rate continues to fall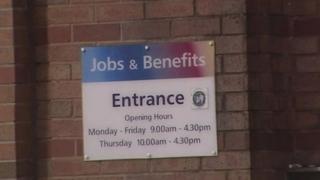 The latest government figures show the number of people claiming unemployment-related benefits in Northern Ireland fell by 1,000 in January.
It is the tenth monthly fall in a row, putting the jobless total at 31,600.
There has also been a drop in Northern Ireland's unemployment rate.
At 5.3% for October to December, it remains above the UK average of 4.8%. Across the UK, unemployment fell by 7,000 to 1.6 million in the three months to December.