Niall Grace case: Matthew McDermott - 'think of consequences'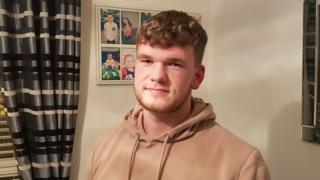 A Londonderry man has warned that people should think before they act when out socialising.
Matthew McDermott, 20, from Cornshell Fields had been accused of committing grievous bodily harm with intent against Institute footballer Niall Grace last September.
The charge was replaced with a formal caution on Thursday.
A defence barrister said at the time that CCTV footage showed both men throwing a punch.
Mr Grace fell and hit his head on the pavement sustaining serious head injuries.
"I regret the punch because of the seriousness of what happened to Niall," Mr McDermott told BBC Radio Foyle.
"It's not worth it when you're up the town, there's no need for stupid fights you just know what can come out of this - my family went through absolute hell."
BBC Radio Foyle asked Mr Grace, who has made a recovery, for an interview. He declined and did not want to comment at this stage.