Mark Harbinson granted bail after year in custody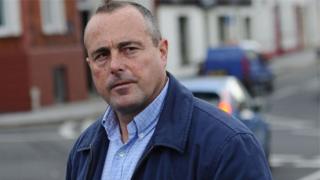 A prominent loyalist, who is awaiting trial on gun charges, has been granted bail after spending a year in custody.
Mark Harbinson, 50, is facing trial later this year on firearms and ammunition offences.
A judge released him on Thursday with conditions, including a curfew and a commitment to report to police every day.
Mr Harbinson, from Sheepwalk Road, in Lisburn, County Antrim, denies all the charges against him.
A charge of possessing firearms and bullets with intent to endanger life was withdrawn last month.
'Change of circumstances'
Mr Harbinson will stand trial in April on three offences linked to the discovery of a pistol, silencer and bullets in a biscuit tin found in outbuildings at his home.
Following his arrest in England in January 2016, Mr Harbinson has made several unsuccessful applications for bail.
Launching a fresh application for bail, Mr Harbinson's barrister said there was now a change of circumstances, given that the most serious charge had been withdrawn.
He also said that if Mr Harbinson was released, he would live with his parents in Stoneyford, a village in County Antrim.
Judge Geoffrey Miller QC imposed a number of conditions when granting bail, including that Mr Harbinson have no contact with a male relative who the prosecution believes helped him flee to England following the initial search of his home in December 2015.
He was also ordered to provide "personal bail" of £1,000, with an additional £4,000 cash surety provided by his parents.