Council funds £430,000 repair work on Gobbins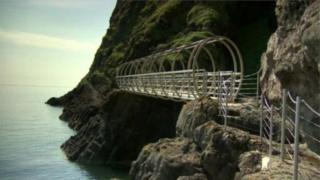 The Gobbins Cliff Path in County Antrim will reopen this summer after hundreds of thousands of pounds of repair work.
The Mid and East Antrim Borough Council confirmed that £430,000 of public funds has been used to repair the path.
The money came from a £2m maintenance fund set aside for the coastal walk, which reopened two years ago at a cost of £7.5m.
The path has closed twice because of storm damage and has remained shut since June last year.
The second closure was because of an "increase in levels of rock-fall".
The Mayor, Audrey Wales, said the path would open again after the council paid for the repair work.
"There will be periodic closures because it is a natural environment, it is an adventure walk, not a play-park, so there will be times when we have to do maintenance," she said.
"We have learnt from this experience that it is not going to be a year-round attraction."