PSNI gives internet safety talk in Irish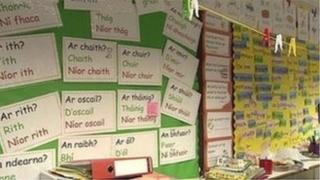 The PSNI has given a talk on internet safety to children at an Irish speaking school in Castlewellan - in Irish.
In a post on PSNI Down's Facebook page, Constable Phil Quinn said police were "really excited" about making the speech at Bunscoil Bheanna Boirche.
Constable Quinn, of the Downpatrick Neighbourhood policing team, told the BBC Tuesday's presentation was made at the suggestion of one of the teachers.
Delivering the talk in Irish "just made sense," he said.
"We have to deliver the message to the community in the way they want it," he added.
Preparing the talk for delivery had been "difficult", Constable Quinn admitted.
"It's not just a question of putting it into Google Translate and hoping that it comes out properly," he said.
School principal Aingeal Nic an tSábhaisigh said she had "jumped at the chance" to have the lecture through the medium of Irish.
"It lets the children know Irish is outside of the walls of the school. I think the PSNI here are sending out a message they are happy to work with all the community.
"It is vitally important our children know about safety online and how to deal with, perhaps, unwanted approaches online and we are so glad the PSNI made the effort to promote that message through Irish for our pupils."