Derry bus explosives: Patrick Brennan jailed for seven years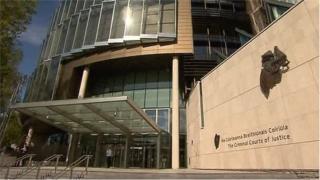 A man who was caught with 1.6kg of high grade explosives and three detonators on a bus bound for Londonderry has been jailed for seven years.
Patrick Brennan, 53, of Lindisfarne Avenue, Clondalkin in Dublin, was arrested on 16 June last year.
The Special Criminal Court in Dublin heard he was intercepted by detectives on board the bus with enough explosives to make eight car bombs.
Busáras in Dublin was evacuated during the incident.
Irish broadcaster RTÉ reports that Brennan was caught sitting on a Bus Éireann bus to Derry with four 400g blocks of TNT and three electric explosive detonators in a canvas bag on the seat beside him.
The court offered to suspend the final two years of Brennan's sentence if he agreed not to associate with members of unlawful organisations.
The father-of-six, who is a dissident republican, refused and the full sentence was imposed.