Derry: Hundreds search river for missing man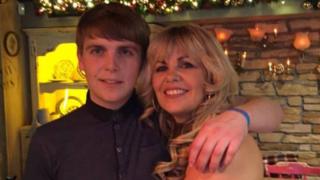 Hundreds of people have been searching for a Londonderry man who went into the River Foyle on Thursday.
Jack Glenn, 23, was wearing a blue hooded sweatshirt, dark tracksuit bottoms and blue trainers when he entered the water from the Foyle Bridge.
The Glenn family have been liaising with the Foyle Search and Rescue team and the PSNI.
Searches were held on Saturday along both sides of the River Foyle.
A candlelit vigil will be held at the Peace Bridge on Saturday evening.
Peter Tait, a family relative, told the BBC: "We will not stop searching for Jack until he is found.
"He was a wonderful young man. He was very caring and well known for his sport.
"The family is finding it incredibly tough. They are devastated but they thank everyone for their help and support."
He added: "We are asking people to talk to a loved one or a friend if they have a lot going on in their heads. Speaking out is key."