Lurgan attack puts ambulance out of action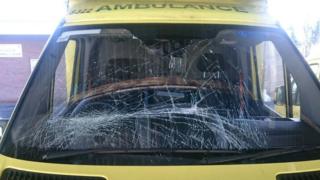 An ambulance was damaged after being attacked while the crew treated a man who had been stabbed in Lurgan on Friday night.
While paramedics were treating the injured man, another man opened the side door of the ambulance and removed an oxygen cylinder.
He then tried to put it through the windscreen of the ambulance, causing damage to it.
The injured man said he did not want to be taken to hospital.
The incident happened shortly after midnight.
The ambulance crew were able to return to their station and move to a spare vehicle.
'Knock on the door'
"I have no idea first of all what is in the mind of anyone to go and take an oxygen cylinder from the back of an ambulance and then try and smash it through the windscreen," John McPoland of the ambulance service said.
"We really do hope that person gets a knock on his door in the near future from the PSNI."
Police have appealed for information about the incident, that happened at Liscorran Court.
A second attack was reported about two hours later, when a paramedic was assaulted in north Belfast by a patient they had been called to treat.
The member of staff was not seriously injured and returned to work after a short period.