NI Secretary of State James Brokenshire attends GAA game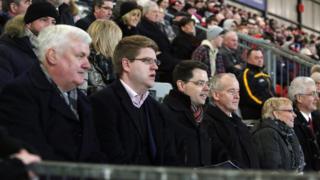 The Secretary of State for Northern Ireland, James Brokenshire, has attended the McKenna Cup gaelic football final in Newry.
It was the first time a secretary of state had attended a Gaelic Athletic Association (GAA) match in NI.
Mr Brokenshire attended the game between Derry and Tyrone at the invitation of the Ulster council of the GAA.
He said: "The welcome I've had tonight has been absolutely incredible."
Anthem
"Just to see the speed, the talent, the passion of the game has been brilliant for me as the first secretary of state to watch a GAA match here in Northern Ireland," he added.
Mr Brokenshire took his seat after the Irish national anthem was played. It is understood he was in the stadium's control room before the game began.
"I don't want to offend anyone here tonight, I am here in the spirit of friendship.
"It's about enjoying the sport, which is what I am doing tonight at this great occasion," he added.
Tyrone won the fixture 2-13 to 1-07.