DUP's Alastair Ross will not stand for re-election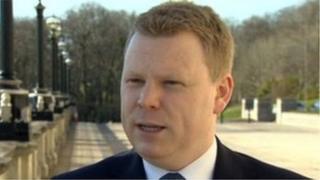 The DUP's Alastair Ross has announced that he will not stand for re-election at the forthcoming Assembly election.
Mr Ross, who is currently a junior minister in the Executive, has been an MLA for East Antrim since 2007.
He said it had been "an enormous privilege to represent the people of East Antrim at the NI Assembly for the past ten years".
Mr Ross said he had taken a decision "when elected in May 2016 that it would be my final election".
Sammy Douglas, who has been representing East Belfast as an MLA for the DUP, has also indicated he will not be standing in the election.