Euromillions: Irish ticket scoops 88.5m euros in lottery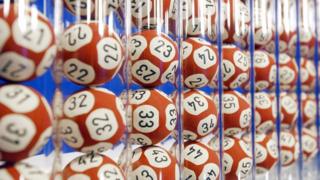 The winning ticket holder of Tuesday night's €88.5m EuroMillions jackpot has contacted the National Lottery in Dublin.
It is not yet known where in Ireland the winning ticket was sold, or whether it was won by an individual, family or syndicate.
The winning numbers were one, five, seven, 17 and 23.
The lucky stars were three and eight. The Irish ticket was the sole winner of the draw.
The massive jackpot has been rolling over since 30 December.
A spokesperson for Ireland's National Lottery said: "Following last night's EuroMillions Irish jackpot win of €88,587,275, the National Lottery can confirm that the ticket holders have been in touch to make arrangements to collect their prize money."