RHI: Allister accuses former DUP adviser over scheme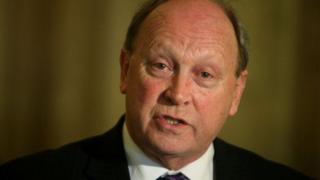 TUV leader Jim Allister has raised questions about a former DUP special adviser's involvement in the Renewable Heating Incentive (RHI) scheme.
Mr Allister accused Stephen Brimstone - under parliamentary privilege - of using a non-domestic boiler to heat his home.
He questioned whether it was "morally the right thing to do" and he asked if it was permitted under the RHI scheme.
Mr Brimstone has, so far, not responded to the allegations.
Speaking under parliamentary privilege Mr Allister said: "In Mr Brimstone's case, he built a new house some years ago, he had a biomass boiler in it.
"He took it out to qualify for this scheme because you have to have a new boiler and he put in a new non-domestic scheme boiler under this scheme in order to qualify.
"That is the sort of rip-off that brings disrepute to all of the scheme."
The DUP has said Mr Brimstone is not intending to make a statement about Mr Allister's allegations.
Mr Brimstone was former adviser to the first minister but resigned from his role in November.