Coleraine: 'Substantial damage' caused in house fire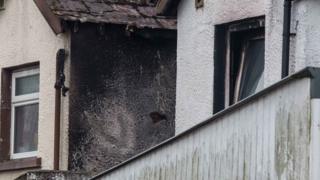 A man, a woman and a small child have been taken to hospital and treated for smoke inhalation after a fire broke out at a house in Coleraine in County Londonderry.
The fire spread from an oil tank to a house on the Ballycastle Road at about 04:00 GMT on Sunday.
The occupants and neighbours were moved from their homes while fire crews tackled the blaze.
Substantial damage was caused to the house.
'Incredibly fortunate'
It is not yet known what caused the fire.
District Commander for the fire service in Coleraine, John Bacon, said the house is now "uninhabitable and the family are incredibly fortunate".
Another six homes were affected by smoke.
John Bacon said a neighbouring family has had to be re-homed due to smoke damage in their home.
The Ballycastle Road was closed while emergency services dealt with the incident, but it has since re-opened.