NIO says joint authority 'incompatible' with Good Friday Agreement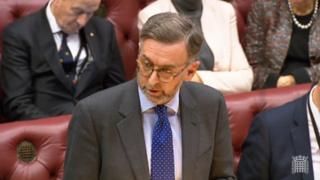 A Northern Ireland Office spokesman has said "any form of joint authority" would be incompatible with the consent principle in the Good Friday Agreement.
Speaking in the House of Lords, Lord Dunlop said the government is fully committed to the Agreement.
His statement came following the collapse of the Stormont executive over a botched green energy scheme.
SDLP leader Colum Eastwood has called for "joint authority" instead of direct rule.
He said that joint authority between the UK and Irish governments was the only "acceptable position for the nationalist community" should the Stormont institutions fail to be re-established after the election.
On Sunday, the Northern Ireland secretary of state said he was not contemplating any alternatives to a devolved government.
James Brokenshire refused to be drawn on the prospect of direct rule or joint authority with the Irish government.