Eason: Ballymena bookshop closure puts jobs at risk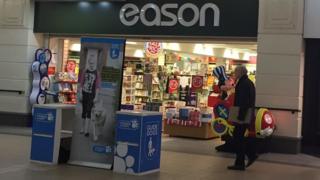 Sixteen jobs are at risk at Eason's book shop in Fairhill shopping centre in Ballymena, County Antrim.
In a statement, Eason confirmed the store will shut at the end of February.
The firm said it had been "unable to reach a viable agreement" with its landlord on the terms of a new lease at the Fairhill store.
It added it "remains fully committed" to its other Eason stores in Northern Ireland and would explore "all possible options" to relocate affected staff.
Eason and Son is based in Dublin and operates more than 60 bookshops across the island of Ireland
There are currently 10 Eason shops in Northern Ireland, including the Ballymena bookstore.