The Stormont crisis - news in brief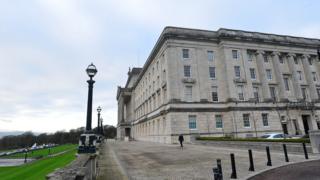 Here is a selection of stories making the headlines following the collapse of the Stormont executive over a botched green energy scheme.
RHI public inquiry backed by MLAs
MLAs have voted for a public inquiry to be called into the flawed Renewable Heat Incentive (RHI) scheme, which has a projected overspend of £490m.
A joint Ulster Unionist/SDLP motion was passed on an oral vote, with no MLA indicating their opposition.
Sinn Féin MLAs were absent from the chamber throughout Tuesday's debate.
The motion also said DUP leader Arlene Foster should stand aside until the publication of any inquiry report.
Irish language dispute
DUP MLA Edwin Poots has claimed his party never agreed to bring in an Irish Language Act, a commitment made in the 2007 St Andrew's Agreement.
He told the BBC's Nolan programme: "We never, ever, ever agreed to an Irish Language Act.
"What language people want to speak is entirely up to themselves, but I am not prepared to have millions and tens of millions taken away from health and all the other things we have to do."
He said the clause was inserted into the agreement as part of a "side deal" between Gerry Adams and the then British Prime Minister Tony Blair.
He said the party had honoured "everything they agreed to do" at the negotiations, describing the insertion of the clause as a "dishonourable act" by Tony Blair.
Sinn Fein's Conor Murphy said Mr Poots' comments showed how hard it was to do business with the DUP.
Election about future of NI and political institutions
The Secretary of State, James Brokenshire, has said he hopes the Assembly election campaign will be carried out in a positive manner.
Speaking in the House of Commons, he said that once the campaign was over, they needed to be in a position to "re-establish strong and stable devolved government".
"This election is about the future of Northern Ireland and its political institutions, not just the Assembly but all of the arrangements that have been put in place to reflect relationships through these islands," he said.
"That is why it will be vital for the campaign to be conducted respectfully and in ways that do not simply exacerbate tensions and division."
Sinn Féin's refusal to re-nominate a deputy first minister on Monday following the resignation of Martin McGuinness, in response to the RHI scandal, left Mr Brokenshire with no option but to call fresh Assembly elections on 2 March.
Abortion reform bill falls
The Alliance MLA, David Ford, has said he is "disappointed his bill on abortion reform will fall due to the collapse of the Assembly.
The proposed legislation sought to reform the law around the termination of pregnancy in cases of fatal foetal abnormalities. It would have enabled women carrying a foetus with a fatal abnormality to access a termination legally in Northern Ireland.
"We know the desire is there in Northern Ireland for change to the law. We need to help the women who wish to seek a termination in these dreadful circumstances and we need to help them as quickly as possible," he said.
In Northern Ireland, unlike the rest of the UK, abortion is only allowed if a woman's life is at risk or there is a permanent or serious risk to her physical or mental health.
Mr Ford pledged that he would submit the bill again if he was re-elected.
Sugden to stand in assembly election
The justice minister, Claire Sugden, has said she plans to stand again as a candidate in the forthcoming assembly election.
The East Londonderry MLA told the BBC that even if the NI Executive is not restored, she believes she can play a positive role in future negotiations, and that she would be a "sane, sensible voice".