NI snap election: Reaction to snap election call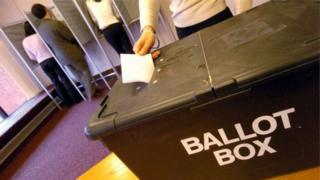 Politicians have been reacting to the news that Northern Ireland will go to the polls on 2 March to elect a new Assembly.
The executive collapsed over a botched green energy scheme that could cost taxpayers £490m.
---
Charlie Flanagan, Irish Minister for Foreign Affairs & Trade
"I reiterate my call to all parties in the election to act responsibly in word and deed so that the political institutions of the Good Friday Agreement will not be damaged in the longer term.
"As a co-guarantor of the Good Friday Agreement, the Irish Government will continue to work with the British Government and the political parties to advance political stability, reconciliation and economic prosperity in Northern Ireland."
---
Sinn Féin's Conor Murphy
"There was no alternative to an election. We went to the DUP before Christmas, Martin McGuinness spoke to Arlene Foster - we asked her privately to step aside so we could facilitate an inquiry.
The DUP hardened up their position over Christmas and tried to dress it up as an attack on unionism and we ran out of road.
If the institutions don't have the peoples' confidence then it can't function. "
---
DUP's Alistair Ross
"It's been clear for several weeks now that Sinn Féin have been looking to manufacture a crisis and collapse the institutions here.
"We want to see an RHI investigation. Sinn Féin were the ones who frustrated that. They said Arlene Foster had to step aside - she had done nothing wrong, so why would she have?
"When Martin McGuinness went that impediment was gone. They still didn't want a judge-lead inquiry."
---
Alliance leader Naomi Long
"The only thing the public have voted for in terms of the Good Friday Agreement is that these institutions should work. Eight months is a disgrace for a government to fall apart."
---
Ulster Unionist party leader Mike Nesbitt
"The people of Northern Ireland should be disappointed and angry by the developments that have culminated in the inevitable collapse of this mandate in just eight months.
"I encourage them to express that anger and frustration by coming out to vote. They've had 10 years of the DUP and Sinn Féin.
"You need no more proof they're incapable of working together."
---
SDLP party leader Colum Eastwood
"We told people eight months ago these parties could not deliver. We told them they needed a programme for government but they (Sinn Féin and the DUP) did not listen.
"It only took 7 months of proper accountability and opposition for this government to collapse."
---
People Before Profit MLA Gerry Carroll
"This is a once in a lifetime election-a judgement day for all those who have taken the electorate for granted.
"We call on everyone, irrespective of the community that they come from, to punish the big parties for their failure to deliver anything for ordinary people.
---
Deputy leader of the Green Party, Clare Bailey
"Every election is an opportunity and we're really feeling the public's anger this time around.
"My greatest fear is they the current situation will make people tune out and perhaps not vote."
---
TUV party leader Jim Allister
"Unionism has nothing more to give to Sinn Féin, if that means a return to direct rule then so be it.
"We cannot go on as we are."
---