Sinn Féin's Ruane will not stand for election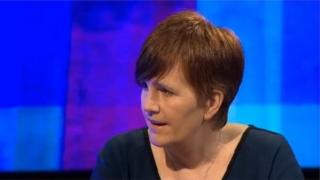 Caitríona Ruane has said she will not be putting her name forward for selection for the next assembly election.
The Sinn Féin MLA for South Down said it had been an "honour and privilege" to represent her constituency for the past 14 years.
Ms Ruane served as principal deputy speaker of the assembly and education minister from 2007 until 2011.
She said being education minister had been "a pleasure".
She said her work at that time involved "abolishing the eleven plus exam, tackling underachievement, improving educational attainment and excellence for all, investing in the Irish medium sector and delivering the largest school building programme in decades".
'DUP arrogance'
Ms Ruane added that she believes Sinn Féin activists in her South Down constituency "will choose a strong team to go before the electorate and they will have my full and enthusiastic support in any upcoming election, in which I will acting as an election agent".
"This will be a hugely important election and it is vital that people have the opportunity to call time on the DUP's arrogance and put respect and equality at the heart of the political institutions," she said.